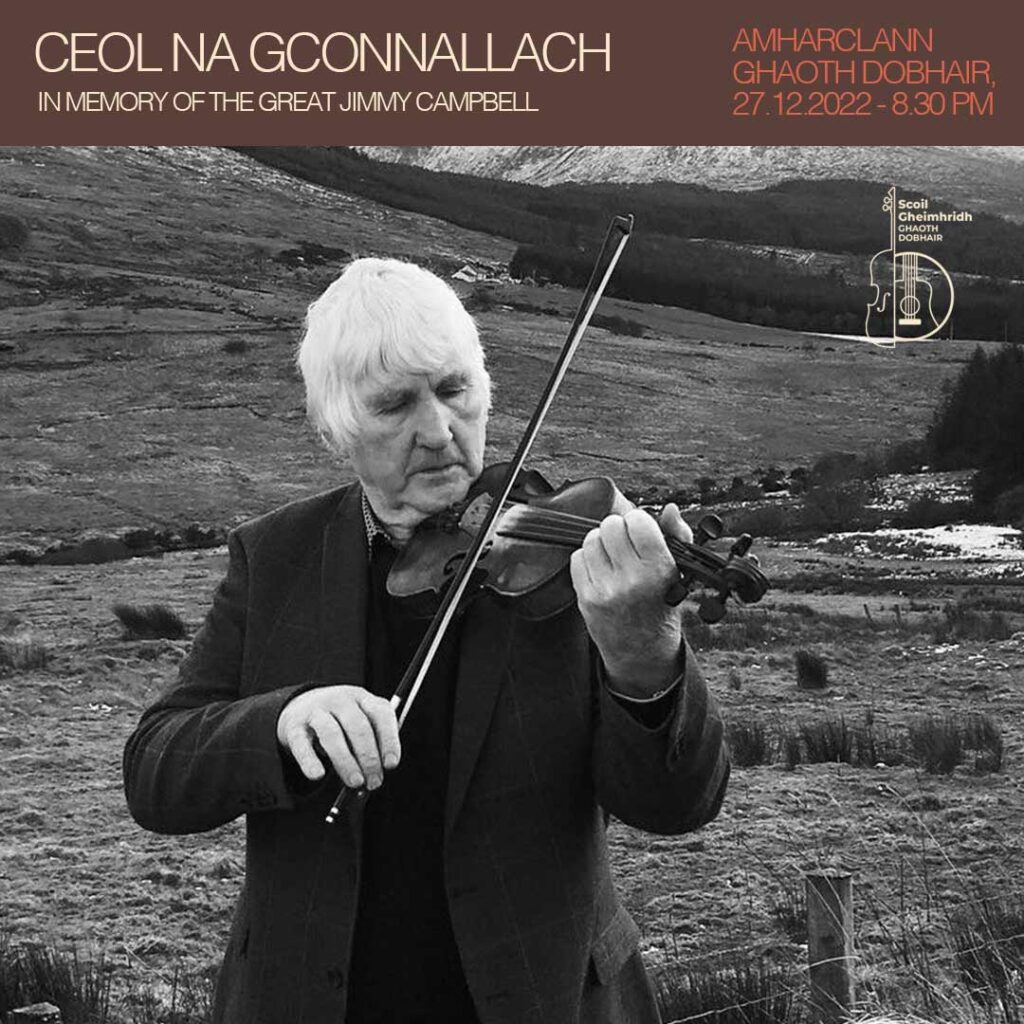 Official opening of Scoil Gheimhridh Ghaoth Dobhair 2022
Caifé Amharclann Ghaoth Dobhair, Na Doirí Beaga, 5.00pm
EVENING CONCERT:
"Ceol na gConnallach" In memory of the great Jimmy Campbell
Amharclann Ghaoth Dobhair, Na Doirí Beaga, 8.30pm
A night of Donegal fiddle music and chat with some of the many musician friends of master Donegal fiddler, the late Jimmy Campbell.
This event will be curated and hosted by Ciarán Ó Maonaigh.
As well as performances, the event will include old recordings and photography, reflecting on the life and times of this remarkable person.
AFTERNOON CONCERT:"Guitar & Bouzouki"
Featuring: Daithí Sproule, Ciarán Curran, Gerry O'Beirne, Marty Barry & Conal O'Kane
Teach Jack, An Ghlaisigh, 3.30pm
A rare opportunity to capture some of the finest exponents of the guitar and bouzouki on stage together.  The spotlight is rarely given to these instruments, which makes this event all the more exciting.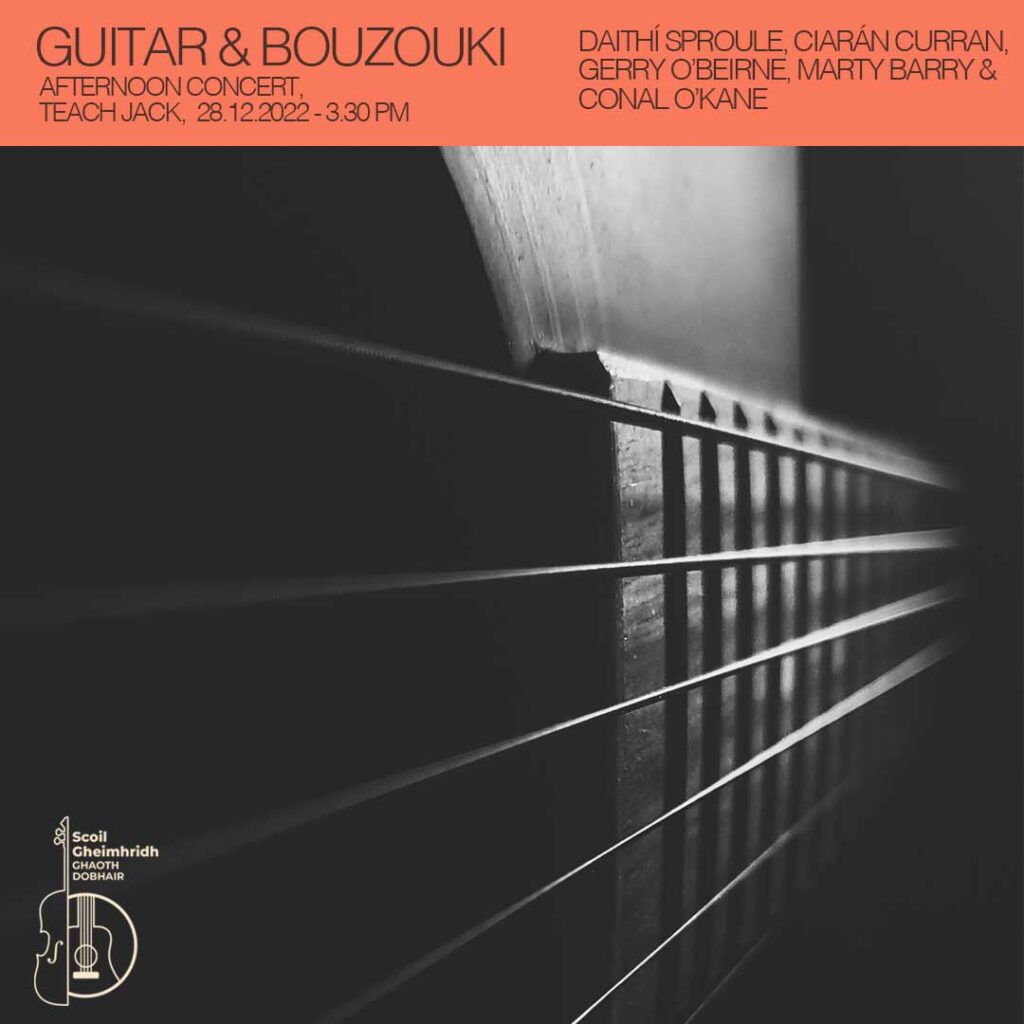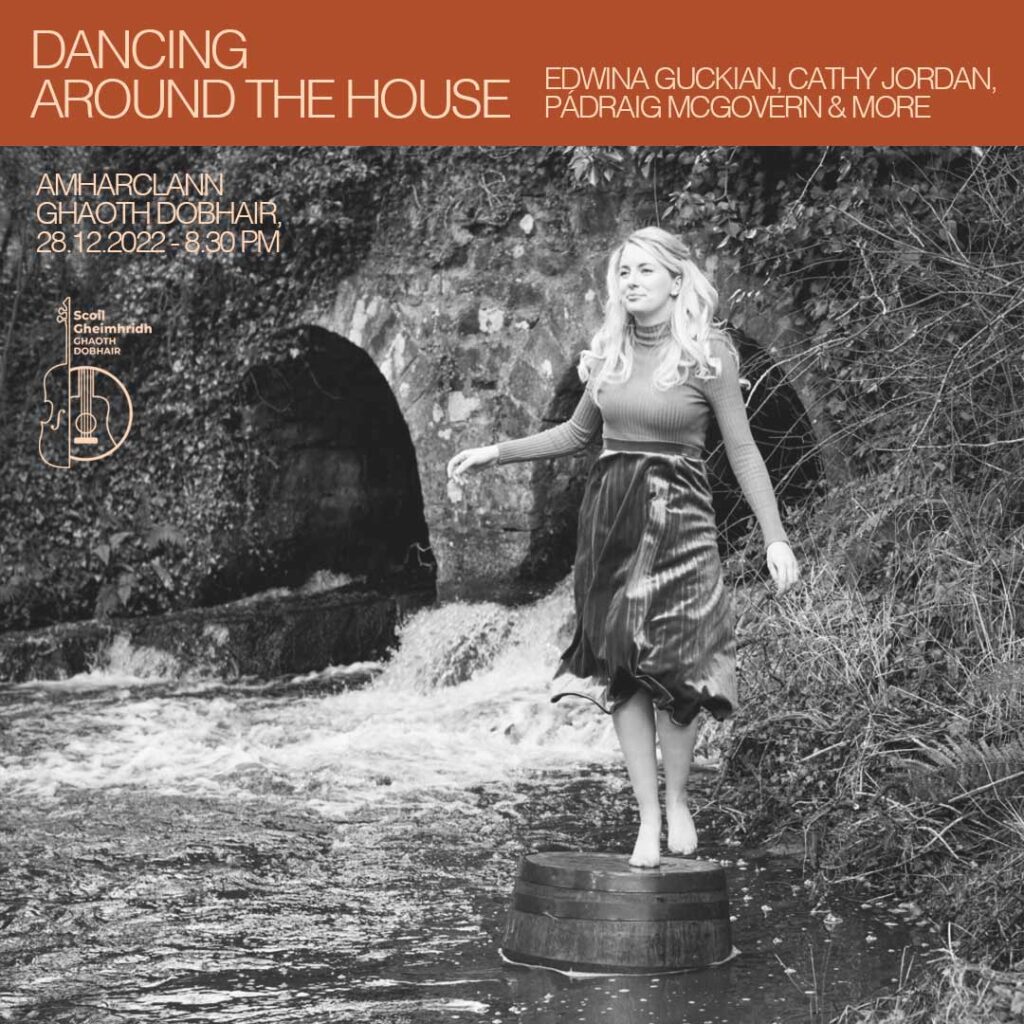 Evening Concert: Edwina Guckian, Cathy Jordan, Pádraig McGovern & more
Amharclann Ghaoth Dobhair
Na Doirí Beaga, 8.30pm
A night of celebrating dance and the folklore customs of our ancestors on the stage of the Amharclann. Join Edwina Guckian and dancers from across Ireland as they welcome you into their house dance, knocking sparks from the floor to the music of Cathy Jordan, Padraig McGovern, Stephen Doherty and David & Patrick Doocey.
Afternoon Concert: "Máistirí an Traidisiún"
Bríd Harper, Louise Mulcahy, Noel Hill & Conor Connolly
Amharclann Ghaoth Dobhair, 3.30pm
Donegal fiddler, Bríd Harper; Louise Mulcahy from Limerick on flute & Uilleann Pipes; Noel Hill from County Clare on Concertina, and Conor Connolly on Accordion, Piano and vocals from Co Galway.
Four musicians of distinct style and reputation, come together for an afternoon of the best of music and song.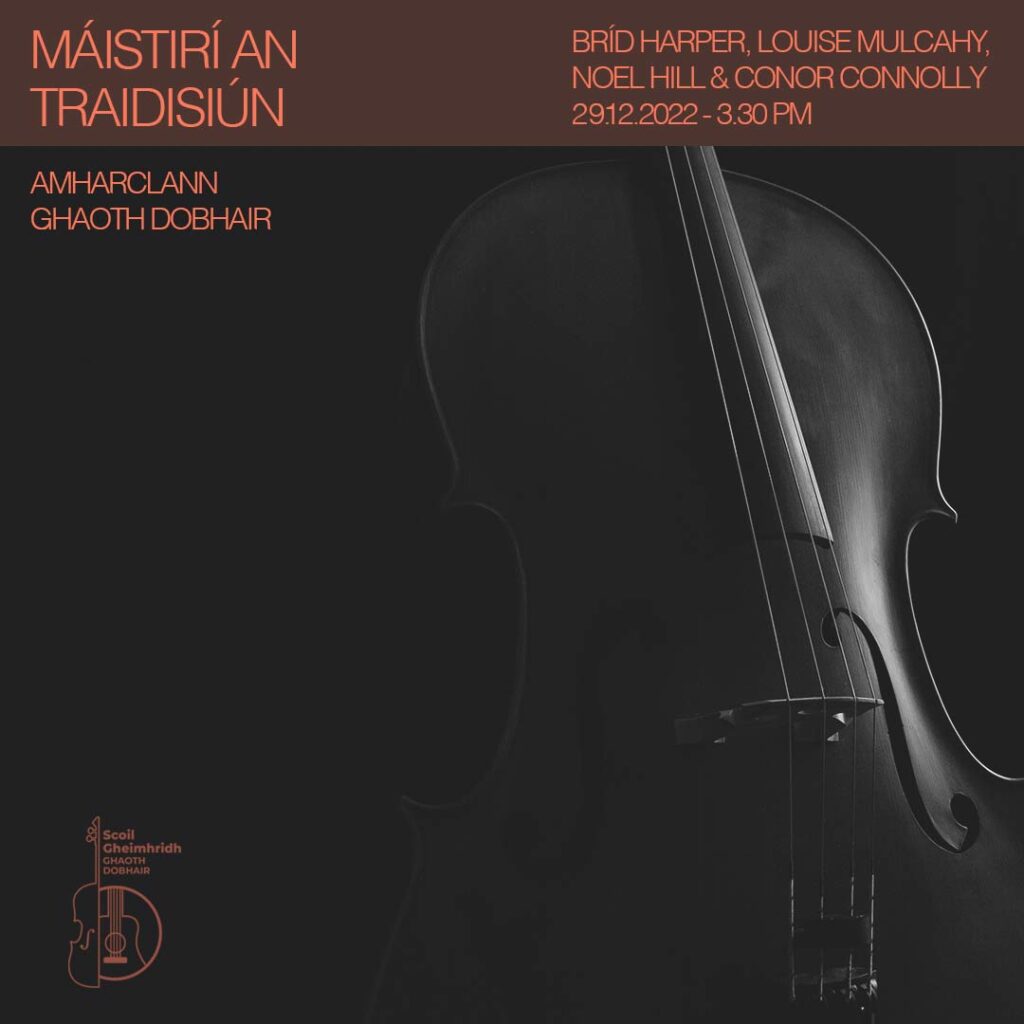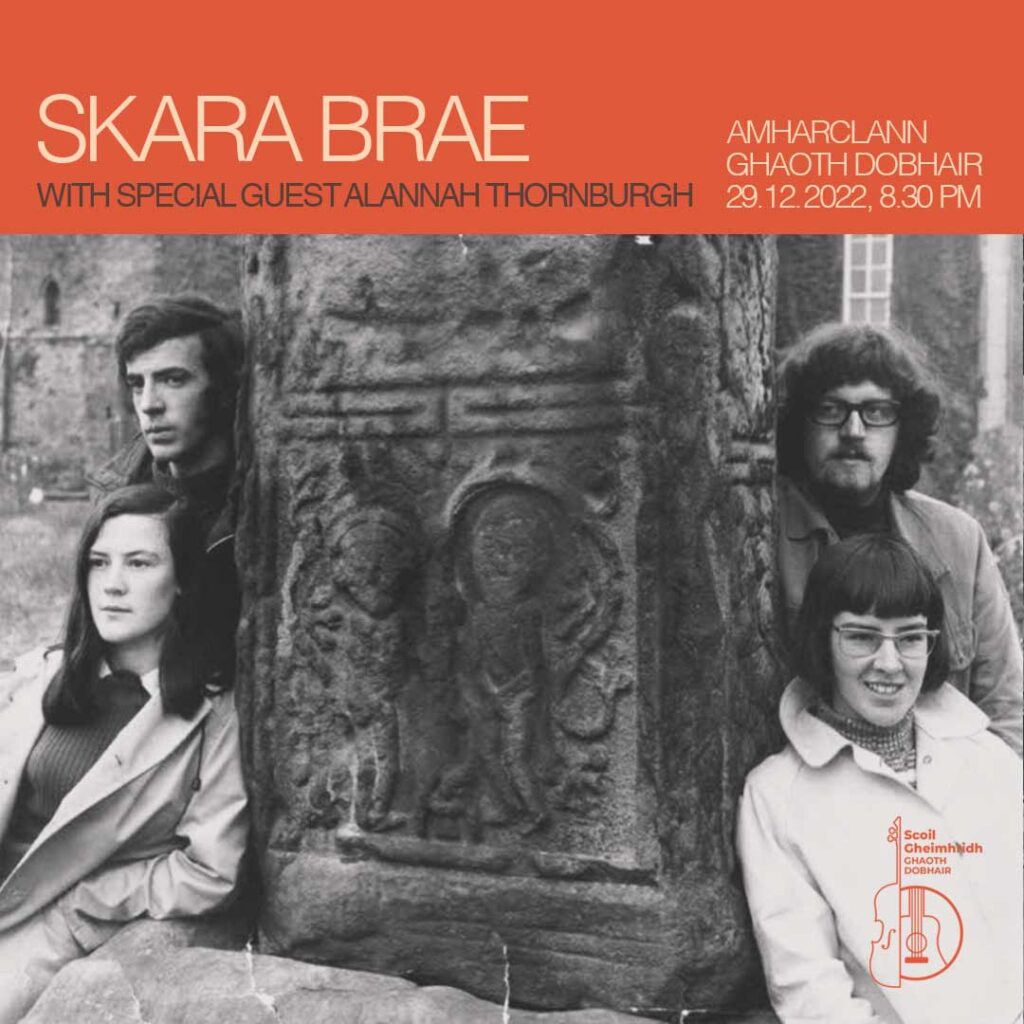 Evening Concert:
SKARA BRAE with special guest Alannah Thornburgh
Amharclann Ghaoth Dobhair, 8.30pm
2022 marks the 50th anniversary of the release of Skara Braes self-titled release – an album which is one of the most influential, and much loved recordings of its time. Scoil Gheimhridh Ghaoth Dobhair are delighted to present the rare opportunity to have members of this wonderful group together: Maighread and Tríona Ní Dhomhnaill, and Daithí Sproule.
The evening begins with special guest: Talented Mayo Harper, Alannah Thornburgh.
Afternoon Event in association with RnaG:
Ceol agus Comhrá le Skara Brae with special guests
Amharclann Ghaoth Dobhair, 3.00pm
We chat with Skara Brae about their album. They reflect on the time of its release, and the songs.
These songs will be performed by singers from Na Rosa, Gaoth Dobhair and Cloich Cheann Fhaola.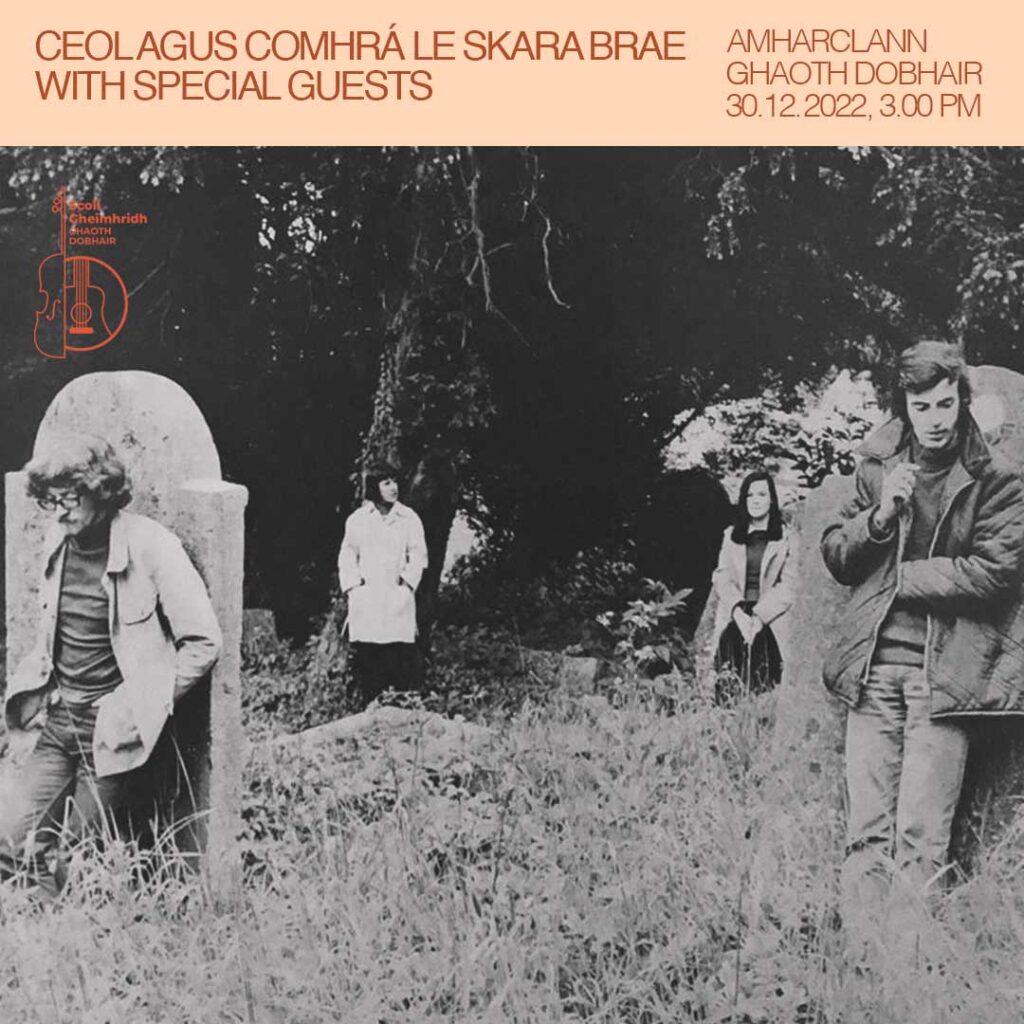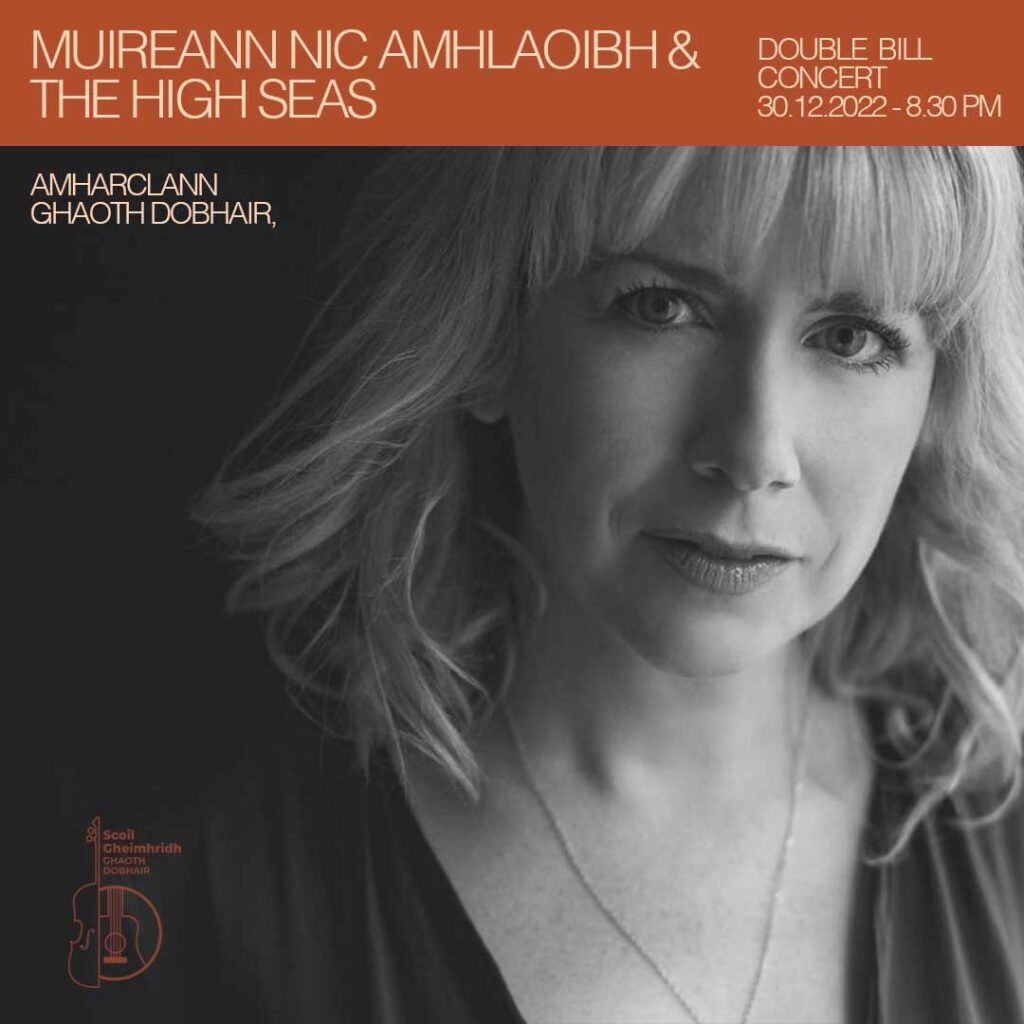 Evening Concert Double Bill:
Muireann Nic Amhlaoibh & The High Seas
Amharclann Ghaoth Dobhair, 8.30pm
Muireann's childhood in West Kerry saw her immersed in a rich cultural environment and vital living tradition, which was to be hugely influential on the foundation of her distinctive vocal and instrumental sound. She is joined by musicians Dónal O'Connor and Gerry O'Beirne.
Caitlín Ní Gabhann, Ciarán ó Maonaigh & Cathal ó Curráin of the High Seas skilfully weave together the colourful strands of Irish music, song and dance into a tapestry of tradition, giving a performance that is both playful and profound, ethereal and brooding.
Afternoon Dance
Two-hand Dance with Peter Campbell & Martin McGinley plus special guests
Venue TBC, 2.30pm
With direction from Anne Connaghan & Connie Mc Kelvey, you will get the opportunity to experience the unique close relationship between Donegal fiddle music and the two-hand dance, with two of Donegal's most acclaimed fiddle players. This annual event has become a favourite for our festival regulars.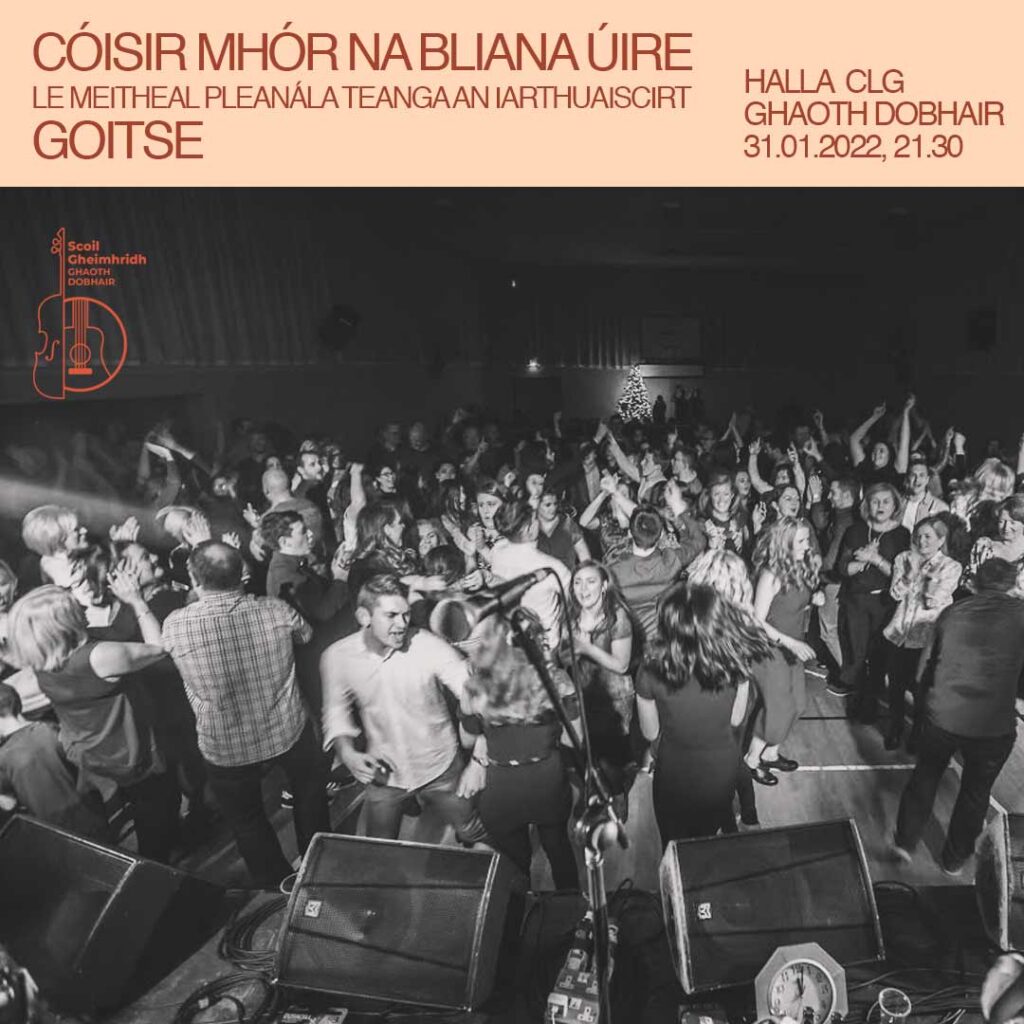 New year's eve party
With Meitheal Pleanála Teanga an Iarthuaiscirt
Music, Craic and Ceili with Goitse and house band 2022
Halla CLG Gaoth Dobhair, Na Doirí Beaga | 9.30pm
Goitse has released released four critically acclaimed recordings and maintains a year round tour schedule throughout Ireland, Europe, and the US. Their distinctive sound lies in the quality of their own composition interspersed with traditional tunes, which make each performance unique.
Please note: This is a family-friendly event. There is no bar at the premises, but you are welcome to bring your own, provided you keep in mind and respect the fact that there will be many young folk around. Please drink responsibly.
Afternoon Concert
Singers Session
Teach Hiúdaí Beag, An Bun Beag | 3.00pm
A regular event at Scoil Gheimhridh Ghaoth Dobhair, which is a relaxed way to start the year where the audience have an opportunity to experience the richness of the Donegal singing tradition.